Last weekend, I had the chance to attend a seminar put together by Women of Grace about how to respond to trials. I really wanted to attend the event because let's face it, we WILL face trials of many kinds like what Jesus said in John 16:33. I did, I do and I know there will be more in the future. And the truth is for a long time, I had stopped responding the right way to the trials in front of me. I had become hopeless and I had stopped fighting. I had allowed the enemy to rob my joy and peace.
A week before this event, I met with one of my closest friends and I told her about how I had been dealing with my problems — not doing anything. And she said the most painful and true statement I ever heard. "You know what you are doing? You are literally handing your life to Satan. Here, take control." That is what happens when you stop fighting. I had to hold my tears but inside, my heart was bleeding with pain. Because she was right.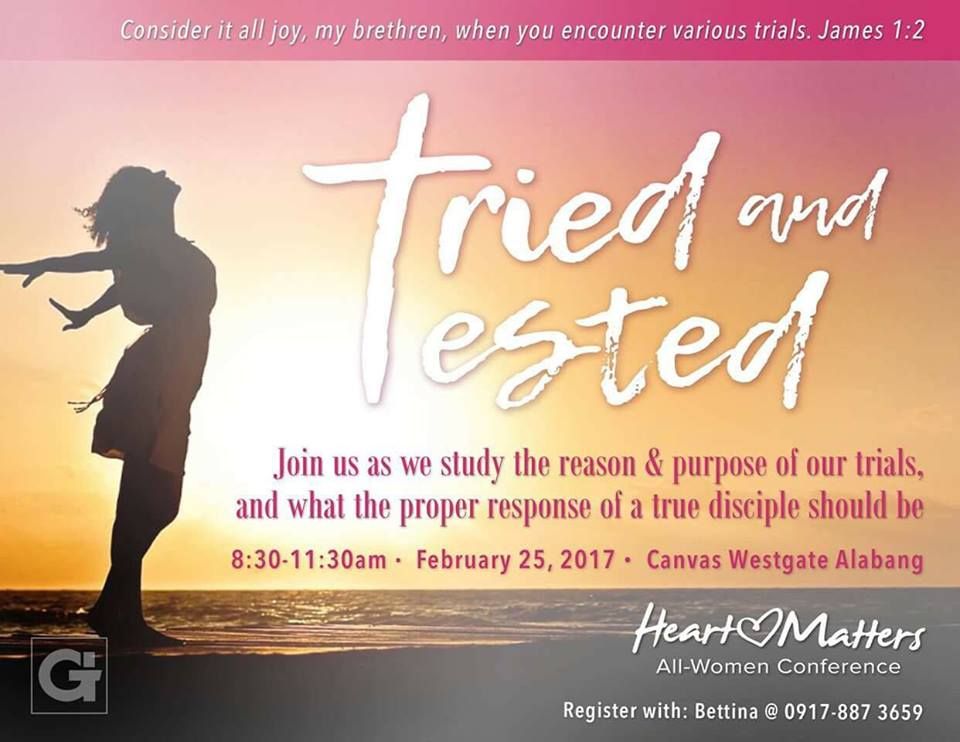 In the seminar, the speaker (who happens to be a person I consider my spiritual mentor) talked about: what trials are, the purpose of trials and how we are to respond to trials.
I wish to share with you all that I had learned but of course that will be too many, so here are just some of my take aways:
Trials are necessary because they will prove your genuineness and worthiness. Like doctors, you can't get that "Dr." attached to your name until you have endured all the exams a doctor needs to pass and many more!
Trials reveal who we really love. Are you for Jesus or not? The way you respond to trials will reveal that. No middle ground. Just pass or fail.
Trials allow us to wean from the world. Sometimes, I get so caught up in this temporary world that I forget eternity. What if Jesus takes away everything from me just like Job? Would I still worship God?
Have a joyous attitude in response to trials. "Consider it all joy" as the Bible says. This separates you from the world. Everyone will have trials whether they are believers or not. But if you are a true believer, you will respond to trials with thanksgiving and joy.
At the end of the talk, there was a breakout group where we discussed a few questions on how we can relate this to our lives today. I learned as much here as I have in the seminar. And one thing that stuck to my heart is the statement of one of my groupmates when asked what is our next step after hearing the message. She said, "I plan to obey."
Well Lord…. "I plan to obey, too."
How do you respond to trials?
Are you going thru trials now?