It has been 2 years and 8 months since I took on the hat of being a mom. In that span of time, I also became a businesswoman. Being a mompreneur taught me many things but at this point in time, I know I still need to learn a whole lot more! Thankfully, mom groups and workshops for moms abound these days. No longer are moms seen as a "homemaker" perse. We aren't just a mother cooking, doing the laundry or dishes, generally running the house. We are pretty much more than that.  Now, we are seen as women who can juggle motherhood with purpose outside the home.
Special Workshop
On May 20 (just a week after Mother's Day), there will be a special workshop for mommies like you and me: mommies who want to make a difference by merging passion and purpose to motherhood. With the help of My Globe Business and Manila Workshops, they will hold this event entitled: Boss Bellas: Mompreneurship 101 – How to Pursue Your Entrepreneurial Goals.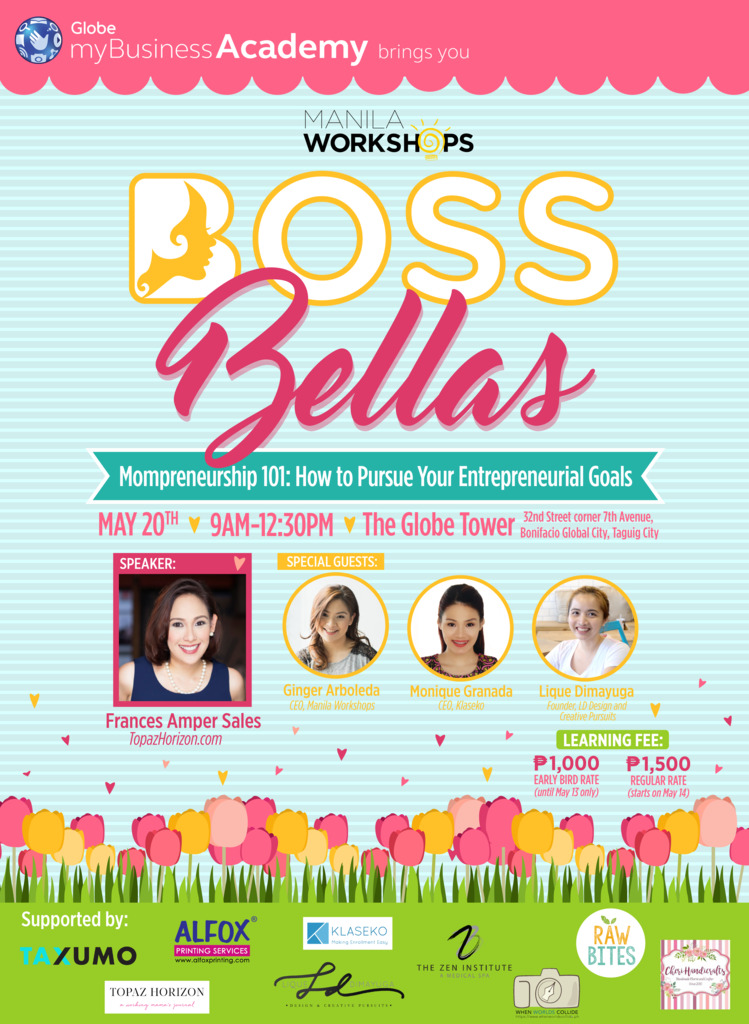 What will I learn?
There will be lots of topics to be covered like turning your passion into business, building your brand, juggling business and family life and one of the most dreaded part of any start-up entrepreneur, taxation! My Globe Business will also share how they can help any mompreneur advance in their business. Gifts and surprises will also be given by Alfox Printing, Cheri Handicrafts and Raw Bites.
The main speaker will be Frances Amper Sales who has been a big name in the writing industry for decades. Among the panelists will be Ginger Arboleda (CEO of Manila Workshops and COO of Taxumo), Monique Granada – Morales (CEO of Klaseko) and Angelica Dimayuga (Founder of LD Design).
Here's the good news, there is an Early Bird Discount (tickets at P1000) until May 13. After that, the price go back to regular price (P1500). If I were you, catch the discount while they last!
Are you ready to give mompreneurship a chance?